So, you're struggling with sleep and you found us. You're thinking you'd like to give us a try, but you're really unsure about what to order. Well, you've come to the right place—this post is for you!
We make the BedJet and Cloud Sheet available in different configurations for all different kinds of sleep needs. To help you figure out what configuration is best for your bedroom, we put together this step-by-step guide - with visuals! - to break it down. Read on to find out the right BedJet configuration for you.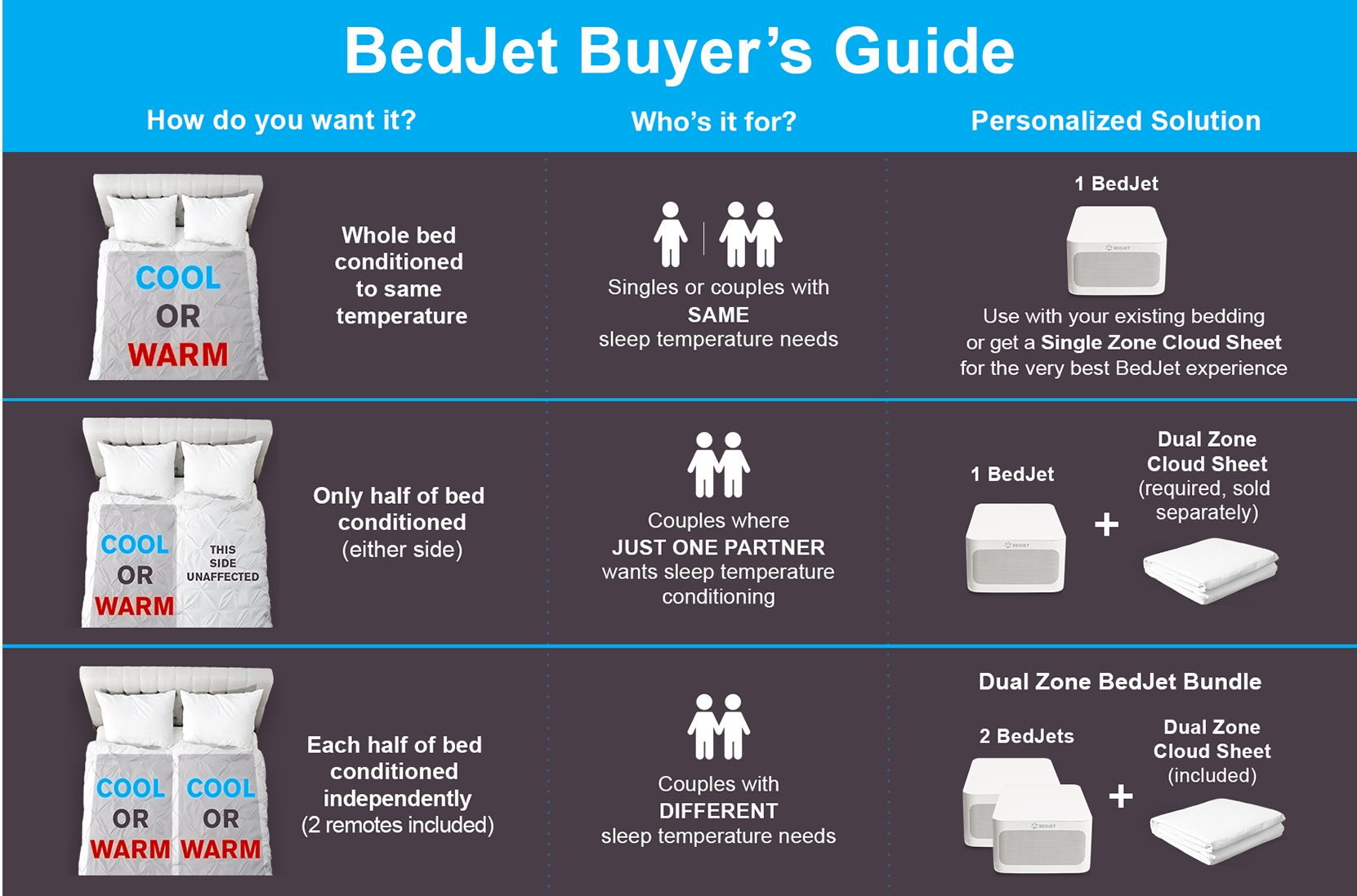 Scenario 1:
You sleep alone OR you're a couple in which both partners enjoy the same sleep temperature.
What You Need:
This setup allows you to cool/warm your entire bed the same temperature. Get this if you're a single sleeper or a couple in which both partners have the same sleep temperature preference.
The Single Zone Cloud Sheet is a double layer top sheet that replaces your regular top sheet and is designed to work with the weight of your regular bedding on top of it. The BedJet air nozzle inserts into one of the Cloud Sheet's inlets, and when the BedJet is in use the entire sheet tents up with cooling/warming air and is evenly distributed throughout the bed.
You can also achieve single zone cooling/warming without a Cloud Sheet by installing the BedJet air nozzle underneath your regular top sheet. Without the Cloud Sheet, you'll feel the forced air circulation of the BedJet more directly on your skin. A small percentage of BedJet users find this sensation relaxing for sleep, but the vast majority of owners find the Cloud Sheet to be a game-changer for sleep. The Cloud Sheet is recommended for the very best BedJet experience, especially for cooling.
Scenario 2:
You're a couple in which one partner is struggling to sleep because they're too hot or too cold, but the other partner is fine with the bedroom's ambient air temperature.
What You Need:
Get this if one of you is fine with the ambient air temperature in your bedroom and the other person is struggling with sleep due to temperature regulation issues.
The Dual Zone Cloud Sheet is designed with special stitching down the middle to create two independent air flow channels. But don't worry, it's snuggle-friendly! The separation is only within the sheet layer—it puts no barrier between you and your partner.
Note that Dual Zone Sheet and the BedJet unit are sold separately and the sheet is required for this configuration. This is the most common BedJet configuration for women going through menopausal night sweats/hot flashes and their partners.
Scenario 3:
You're a couple in which both partners want to be able to customize their own independent climate control on their side of the bed– the ultimate sleep luxury!
What You Need:
Get this if you're a couple in which each partner has different sleep temperature needs and each partner wants their own customized climate control on their side of the bed. It gives each person their own dedicated BedJet to operate independently via smartphone app or via their own remote. This means if you like your side toasty warm, but your partner likes theirs cool, you are both able to achieve that at the same time!
The Dual Zone Cloud Sheet is designed to keep both sides at their preferred temperatures, without putting any barrier between you and your partner (100% snuggle friendly!)
We offer this configuration as a discounted bundled package of three items - two BedJet units with the Dual Zone Cloud Sheet - to help you save money.
Note: For Adjustable Split King Beds, this configuration is a bundle of 2 BedJet units and 2 Twin XL Cloud Sheets for a total of four items.
Got questions about BedJet? We're happy to help. Call us at (401) 404–5250 to speak to a real human being or email us at info@bedjet.com. Click the blue "Chat with Us" tab at the lower right corner of your screen for speedy solutions from our Customer Service Team. Sign up for our VIP list and follow us elsewhere on the web to get the latest BedJet deals, promos and news!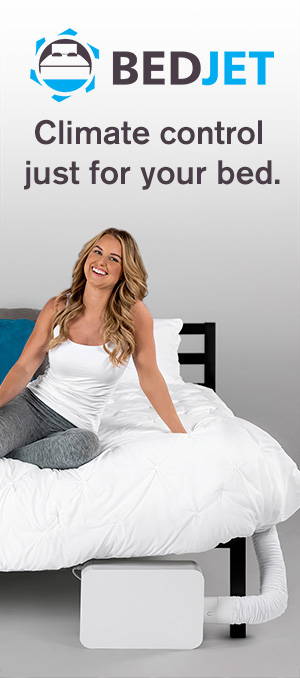 How did I live without this?
I have watched my wife suffer with menopause hot flashes for years. Finally I started looking at what I could buy to help her at night. This system is so awesome I am going to order one for my side of the bed. Works great on cool and now that we are in winter the warming is also incredible!
– Barry

60-Day No Sweat Guarantee + Free Return Shipping (US, Canada, EU, and UK only)