BedJet 4-Year Extended Warranty FAQ
Our comprehensive bumper-to-bumper BedJet owner's warranty protects new and refurbished BedJet units purchased from an authorized BedJet retail site.
The Warranty covers your BedJet unit itself as well as all accessory parts included in the box (remote, hose, mattress paddle, extender clips, etc.). A standard 2-Year Warranty is included with your purchase. Purchase a 4-Year Extended Warranty to double your length of coverage to four years!
Q: Is my BedJet eligible for an Extended Warranty add-on?
A: Units older than one year are not eligible for an Extended Warranty add-on. Units must be purchased from an authorized retail site and warranty is applicable to first owner only. Please contact us for more information or to verify your purchase eligibility.
Q: When does Warranty coverage begin?
A: Warranty coverage starts on the day your BedJet is delivered.
Q: What if I break a part? What if my dog eats the remote control? 
A: No worries, we got you covered!  Within your applicable Warranty period we will replace anything required to keep your BedJet running smoothly at absolutely no cost to you. This includes shipping (US only), whether the issue is your fault or ours. Outside of your Warranty period we do offer low cost replacement parts. Please contact us for assistance.
Q: What if I bought my BedJet from another website?
A: The BedJet standard 2-Year Warranty and 4-Year Extended Warranty apply only to orders placed through authorized retail sites, and applies to first owner only. Please contact us for assistance in verifying your purchase.
Q: What is the difference between the $99 Extended Warranty and the $198 Extended Warranty?
A: The $99 4-Year Extended Warranty covers a single BedJet for four years from date of delivery. The $198 4-Year Extended Warranty is for Dual Zone System owners and covers the two BedJets included in the Dual Zone bundle for four years from date of delivery.
Q: Does the Extended Warranty cover Cloud Sheets?
A: No, the 4-Year Extended Warranty does not protect Cloud Sheets. Everyone washes their sheets differently, so they are considered a "wear and tear" item and do not fall under Extended Warranty coverage.
Customer Reviews
Write a Review
Ask a Question
Filter Reviews:
wife
Life
bedjet
night sweats
sleep
thing
purchase
legs
03/24/2020
Yosvani A.
United States
great product
outstanding product and customer service
03/18/2020
Alex P.
United States
Dope as it gets!
I thought it might be a gimmicky thing but so far I'm a month in and this bad boy is a life savor. I have night sweats in my legs that seem to have increased with my stress lately. This has really solved a lot of night time uncomfortableness. Thanks, BedJet!! You rock
03/04/2020
John B.
United States
Changed our life
I love sleeping cold, so I leave my windows open in the winter and AC on full blast in the summer. My wife loves it hot when she sleeps. We always argue about the temp. Bedjet was the best thing that ever happened. We got the Dual Bedjet 3 with the sheet and its truly the best thing ever. I have also had the deepest sleep the past 2 weeks of using it than I can ever remember. Best purchase we have made! Also, this is the first review I have ever made on a product, but it's that good to make me want to leave one.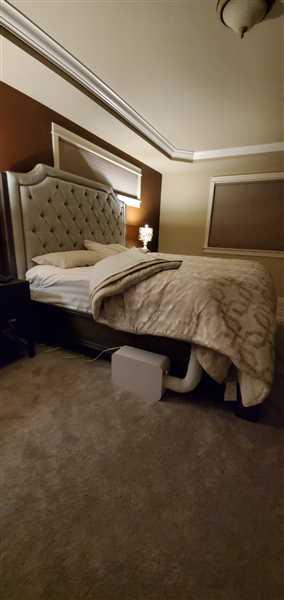 02/26/2020
Mark B.
United States
Works As Advertised
This is our first week of using it and we are still fine tuning the fan speeds to our liking. But overall the double setup for the BedJet3 works exactly as advertised. Configuring the phone app and downloading the firmware was the hardest part of the setup. After that, everything else is easy! So far my wife and I are very pleased with this purchase.