As fall sets in and the weather starts to cool down, our sleep needs change. Summer is all about cool sleep, but the fall and winter are all about creating a cozier bedroom environment. When it's chilly, there isn't a much better feeling than climbing into a warm bed for a great night's sleep. You know that toasty feeling when you get into a bed made with sheets fresh out of the dryer? It's one of the coziest fall/wintertime sensations.
To give the bed a toasty warm feeling, many people turn to a heated or electric blanket, although it comes with its fair share of cautionary tales and drawbacks. As a bed warmer, the BedJet is a far superior solution compared to an electric blanket, allowing you to make your bed instantly warm and cozy without the limitations, risks and hassles of an electric heated blanket. Read on to learn why.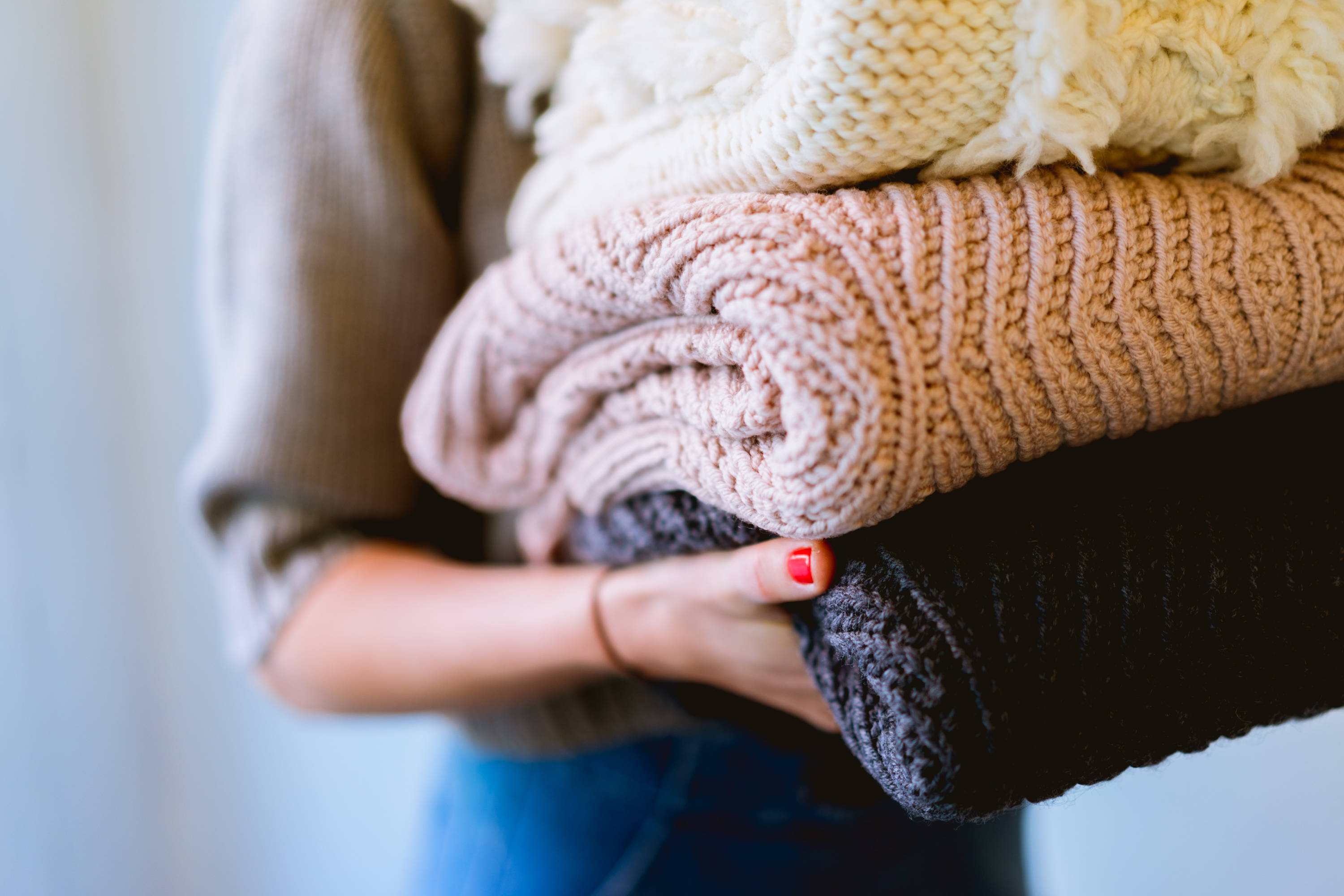 Electric Bed Warmer Comparison: How Does It Work?
To understand the biggest differences between a BedJet and an electric blanket, let's first take a look at how an electric blanket works. An electric blanket is comprised of a series of wires that run throughout the blanket itself as well as an external power cord that connects the blanket to the power source. This means that it introduces a lot of electricity into your bed and directly on top of your body. Most heated blankets will include an attached remote that allows users to select their desired heating setting. After the selection has been made, electricity courses through the wires to heat them thus creating the warming effect of the blanket itself.
In comparison, the BedJet is a climate comfort device for beds that delivers a heating experience using air—no electric wires or tubes in your bed to sleep under or on top of. The BedJet air-driven system keeps all the electricity OUT of the bed, where it belongs, and the specially designed Cloud Sheet evenly distributes warming air throughout your bedding so you feel delightfully cozy from neck to toes. No feeling of heavy coils on top of you.
BedJet vs. Heated Blankets: How Fast Does It Work?
Another key differentiation between the BedJet climate comfort system and electric blankets is speed. Electric blankets can often take between 40–60 minutes to reach a user's desired heat setting. If you want to get into a warm bed and prevent the "winter sheet shock" feeling, that means you'd need to remember to turn your electric blanket on in advance to make sure it has time to warm up.
Comparatively, BedJet heating works nearly instantly! For those who love the feeling of sheets fresh out of the dryer, the BedJet can be used on Turbo Heat mode deliver a sauna-like, 104°F air into the bed in just seconds. It also includes various other heat settings that can keep you warm without overheating throughout the night.
BedJet Features and Programmability vs. Electric Blankets
Some of the most feature-rich electric blankets in the market, which can cost customers over $500, still cannot offer the same range of customization that BedJet can. These electric blankets include features such as automatic shut off after a certain number of hours, independent heating controls on the left and right sides of the blanket, multiple settings, digital/backlit remotes, and the ability to preheat the blanket before getting into bed.
BedJet offers all of these features and more. The BedJet's Turbo Heat mode can preheat the bed to a toast 104°F in just seconds, and automatically turns off after 10 minutes of heating. The BedJet dual zone system for couples couples offers partners the ability to sleep together while enjoying their own independent climate control on their side of the bed. One or both sides of the bed can be heated or cooled to the ideal temperature each needs for sleeping. That's right, BedJet can also cool! This provides BedJetters with a much wider range of comfortable sleep temperatures. The BedJet's biorhythmm sleep technology allows BedJetters to pre-program custom sleep temperatures for each hour of the night, right from a gently backlit digital remote that is currently considered to be the most advanced remote in the sleep industry.
Special Care and Cleaning: Electric Blanket vs. BedJet
Due to the network of wires within electric blankets, they require special care instructions for use, storage and cleaning. It is essential that these instructions, which are provided by the manufacturer, are followed carefully to maintain the integrity of the wires and keep the user safe. If the blanket is misused or stored in improper conditions and the coils become bunched or pinched in any way during storage, the fire hazard risk can increase. Special cleaning procedures may be required depending on the blanket type, which can be time consuming.
There are two main ways to wash a heated blanket: by hand or with a washing machine that enables specific washing cycles. To wash by hand, many electric blanket manufacturers instruct users to fill their bathtub with lukewarm water and the appropriate amount of detergent—too much detergent can cause internal damage to the blanket. After allowing the detergent to mix with the water, the blanket itself must soak for at least 15 minutes before massaging and cleaning the blanket. Users must be careful not to bunch or wring out their blanket during washing as it can twist and damage the inner wire network.
If a user decides to wash their electric blanket in the washing machine, the typical instructions from a manufacturer are to opt for a lukewarm water setting as well as a gentle setting, and should only be washed for about 2 minutes. A prolonged wash cycle can cause damage. A rinse and spin cycle can be run following the wash cycle. It is important to note that, no matter which method of cleaning a user opts for, an electric blanket should not be dried in the dryer. The high heat can cause invisible wear and tear on the wires inside.
Since the BedJet Cloud Sheet does not introduce any electricity, wires or tubing into the bed, it does not require any special care or special protections during storage. It's a 100% cotton double layer top sheet that can be machine washed and dried just like normal top sheets.
As for the BedJet unit itself, maintenance is next to nothing. The air filter can be popped out periodically and run under cold water to keep it clean and dust free. This takes just a few seconds, and most BedJetters do this every few months.
Safety: Are Electric Blankets Safe and How Does BedJet Compare?
What exactly are the consequences of improper use and maintenance of the electric blanket? Without careful attention to the wires that run through an electric blanket, there is a risk of damaging or fraying the wires over time. Most often, it's friction that causes an electric blanket's wires to become frayed. Folding and tucking the blanket into the mattress can become problematic over time, as friction between the mattress and bed frame can cause damage to the wires in the blanket itself over time. Additionally, those that sleep with pets should remain cautious of their pets' paws and chewing habits, as these can cause fraying as well.
With the BedJet, you don't have to worry about any of the above. The durable Cloud Sheet is a cotton top sheet and can be treated and washed as such. The BedJet unit has been third party tested to rigid Underwriters Laboratories (UL) electric appliance safety standards. The unit has been designed and tested to the same UL standards that electrified hospital beds are held accountable to! The entire outside housing of the BedJet is made of UL-listed flame proof plastic. We take safety very seriously—the Chief Engineer of the product is a former Aerospace Engineer who once had responsibility for critical flight safety parts on airplanes! With BedJet, there are no wires in the bed to be concerned about, which means you can bundle up in your blankets as you please, cuddle up with your furry friends without worrying about their paws doing damage, and sleep safely and soundly throughout the night in your ideal temperature.
Got questions about BedJet? We're happy to help. Call us at (401) 404–5250 to speak to a real human being or email us at info@bedjet.com. Sign up for our VIP list and follow us elsewhere on the web to get the latest BedJet deals, promos and news!
---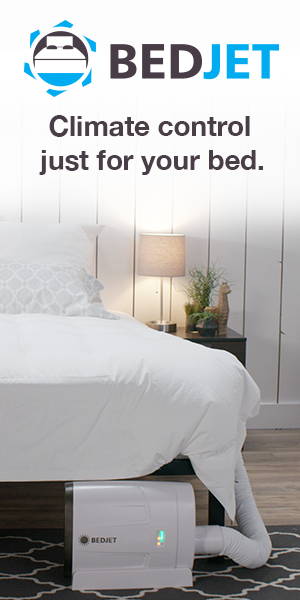 How did I live without this?
I have watched my wife suffer with menopause hot flashes for years. Finally I started looking at what I could buy to help her at night. This system is so awesome I am going to order one for my side of the bed. Works great on cool and now that we are in winter the warming is also incredible!

60-Day No Sweat Guarantee + Free Return Shipping (US Only)