Some of the most frequently asked questions we hear from people considering upgrading their bed with a BedJet Climate Comfort System are about the patented BedJet Cloud Sheet. Some questions that we often get asked about this accessory are: "What is a Cloud Sheet?" How does it work?" and "Do I need it?" In this post, we've set out cover all your Cloud Sheet questions in one place. Read on to find out how this unique, performance engineered sheet - that acts very much like a warming and cooling blanket for beds – actually works.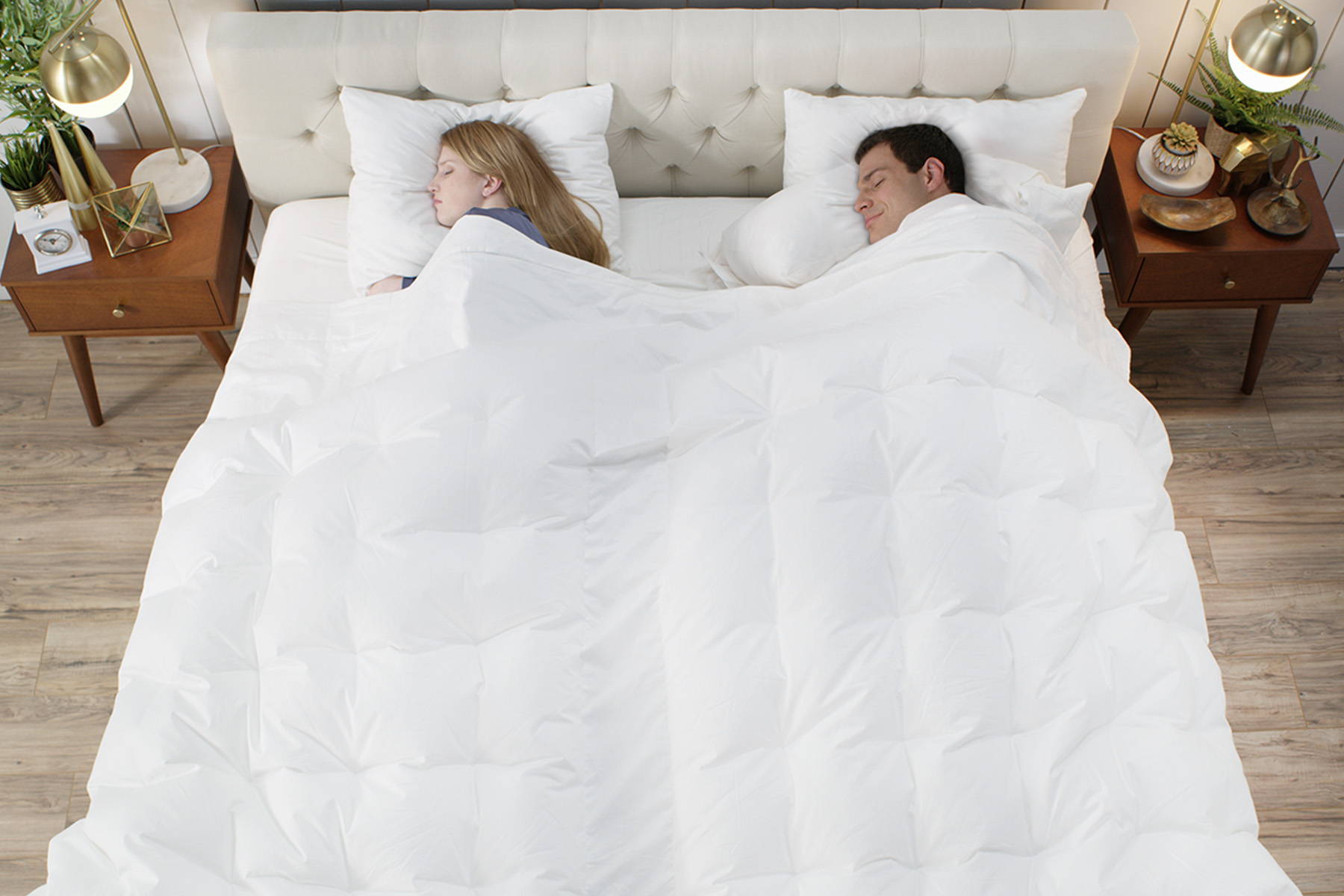 What is the BedJet Cloud Sheet?
The patented BedJet Cloud Sheet is a luxuriously soft, 100% cotton top sheet that's specially designed to work with your BedJet unit. The simplest way to visualize it is if you think of two top sheets sewn together at the edges, with inlets and the foot and sides of the sheet for the BedJet air nozzle. When the BedJet is in use, the sheet tents up with the cooling or warming air from the BedJet and evenly distributes it across your body from feet to neck. The multiple inlet locations give you options for installing the BedJet air nozzle, whether you want to install it on the left side, right side or foot of your bed.
But the Cloud Sheet's design is also complex. It's sewn with a series of interior air flow chambers to help evenly diffuse the BedJet air down onto your body. The Cloud sheet has the quality of 5-star hotel linens and feels wonderful against your skin.
When your BedJet is on, the Cloud Sheet becomes wonderfully puffy and soft, just like your favorite down comforter—but instead of heavy feathers, the Cloud Sheet is filled only with conditioned BedJet air, making it one of the softest, lightest, and coziest temperature control layers ever made! When your BedJet is off, the Cloud Sheet deflates to look just like a regular high-quality top sheet.
Can I use the Cloud Sheet with my existing bedding?
Yes – the Cloud Sheet is designed to work with the weight of your comforter/duvet or blankets on top of it. It actually works best this way, as the weight of bedding keeps cooling/warming in and close to your skin. The only thing you won't need anymore is your regular top sheet – the Cloud Sheet replaces that.
Can I put the Cloud Sheet in my washer/dryer?
Yes – you can wash and dry the Cloud Sheet just as you would a regular top sheet!
Do I need the Cloud Sheet in order to use the BedJet?
We recommend the Cloud Sheet for the optimal BedJet experience – especially for cooling. Most BedJetters find it's a gamechanger for even distribution of cooling air throughout the body, acting very much like an active cooling sheet or cooling blanket for the bed and helping to circulate out trapped heat and humidity. About 80% of BedJet users opt to use the Cloud Sheet with the BedJet.
A small percentage of BedJet users like the sensation of "direct air" on their skin, and they opt to use the BedJet with a regular top sheet. It's just a personal sleep preference. To do this, you'd need to install the BedJet air nozzle underneath your regular top sheet, directly into the sleep layer.
If you only want to cool/warm one side of the bed or want different temperatures on either side of your bed, than the Dual Zone Cloud Sheet is required. You can read more about that here.
Should I get the Single Zone Cloud Sheet?
The Single Zone Cloud Sheet comes in Twin XL, Queen/Full and King sizes (the King size sheet is compatible with California King size beds.) It's for individuals as well as couples in which both partners have the same sleep temperature preference. The Single Zone Cloud Sheet works with one BedJet unit, and is designed to evenly distribute the BedJet's air throughout the entire sleep layer on your bed. Refer to this guide for a handy visual.
Should I get the Dual Zone Cloud Sheet?
The Dual Zone Cloud Sheet is designed for couples who have different sleep temperature preferences. It too comes in Twin XL, Queen/Full and King sizes (the King size sheet is compatible with California King size beds.) The Dual Zone Cloud Sheet works like the Single Zone, except it's designed with special stitching down the middle to create two independent air flow chambers.
If you only you or only your significant other needs temperature control, you can use one BedJet and attach it to the left or right side of the Dual Zone Cloud Sheet. The special stitching down the middle will keep the air on only the left or right side, so the other partner won't be affected. If you both want your own independent climate control on your side of the bed, you can use two BedJet units with the Dual Zone Cloud Sheet. You can again refer to the BedJet Buyer's Guide for a helpful visual on this.
Does the Dual Zone Cloud Sheet create a barrier between me and my partner?
Not at all. The Dual Zone Cloud Sheet is not like a sleeping bag. It's totally snuggle-friendly. The only separation created by the Dual Zone Cloud Sheet is inside the sheet itself. There is no barrier between you and your partner.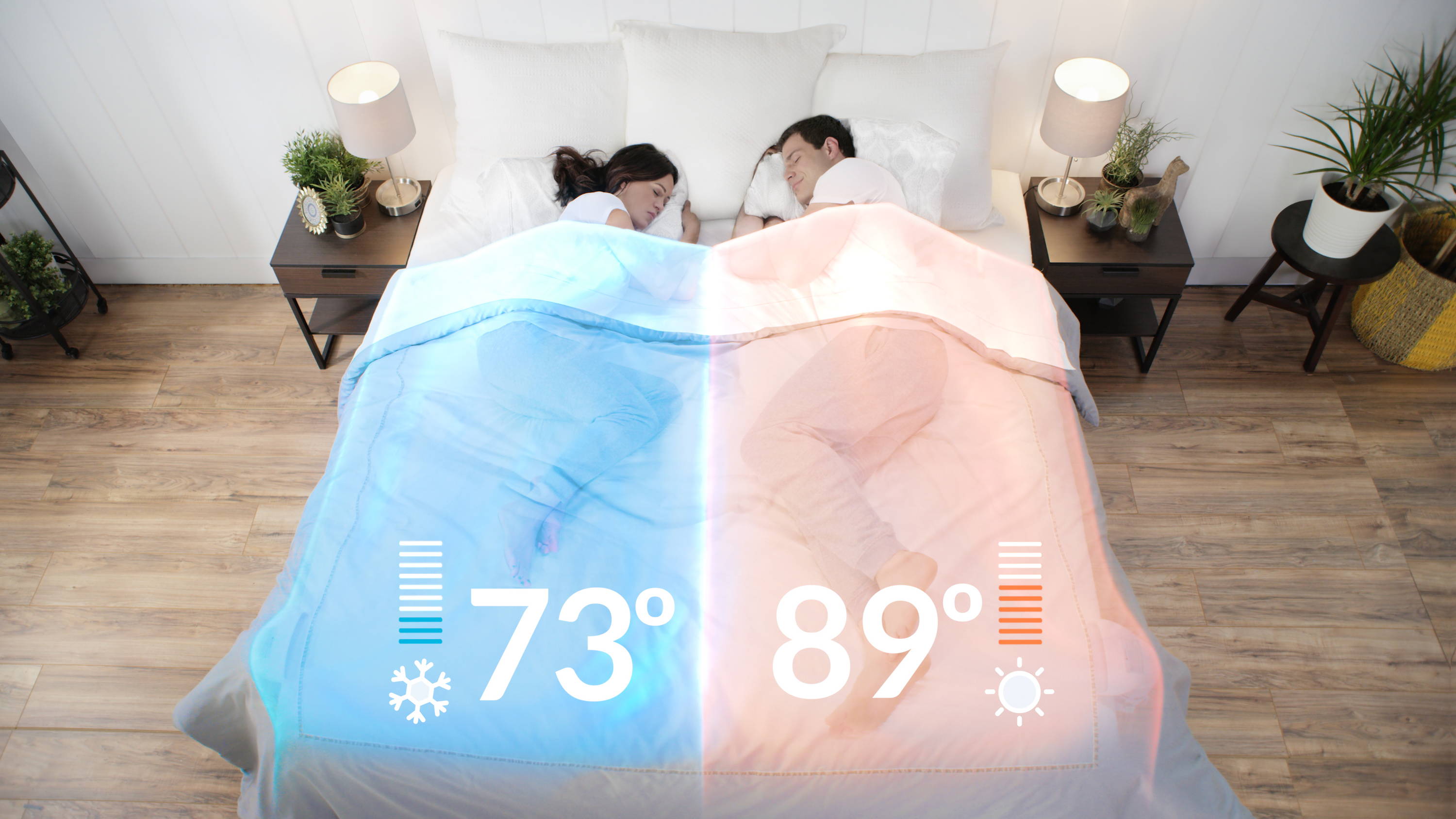 The Cloud Sheet as a Cooling Sheet
If you're struggling with hot, sweaty sleep and are in search of an air conditioning blanket or the best cooling sheets, you're in the right place. Because of its unique design and functionality, the Cloud Sheet is one of the best options out there when it comes to cooling sheets. Whether you need Twin, Queen or King Size cooling sheets, you can shop Cloud Sheets here and find the right size and type for your bed.
Acting much like an air-conditioning blanket, the air-powered BedJet and Cloud Sheet work together as a mattress cooling system to rapidly wick away trapped heat and moisture in your bed, drying eight times more sweat than "cooling technology" mattresses. If you've tried expensive temperature control mattresses or a heating and cooling mattress pad that just didn't work well, you'll find that the BedJet and Cloud Sheet are better than an electric cooling blanket and offer a much different, more effective solution for temperature control during sleep. When you try it, you'll see why the BedJet has skyrocketed to become the top-rated and best bed cooling system in just a few short years.
Cloud Sheet and Heating – Better than the Best Electric Blanket
Take a look at some of the research we've gathered on the best electric blankets here. The Electric Blanket Institute tells us the average electric blanket puts out less than 200 watts of heating power, and some portion of this energy is emitted to the top side of the blanket into the bedroom.
The BedJet, a new alternative to electric blanket, raises the bedding temperature of a king size bed by 20 degrees F in just minutes, operating at 10-15x the speed of any electric blanket or electric mattress pad technology on the market. This enables a quick toasty bed pre-heat just minutes before you get into bed.
The BedJet provides 1500 watts of safe, dry heating power, nearly 100% of which goes straight into your bedding. The temperature of the hot air from the BedJet bed heater fan is safe, at approximately the same temperature as your household HVAC central air heating register. We created BedJet for cooling and heating comfort, but also because we're not enthusiastic about having live electricity in the bed of any kind, or sleeping all night surrounded by electromagnetic fields. Safety and performance are two important factors when you compare even the very best electric blanket with a BedJet -- the BedJet outperforms in every category.
So, if you have a King size bed and want a warming option, don't shop around for a King Size Electric Blanket that introduces electricity into the bed and could take a long time to actually make you feel warmed. Get a BedJet electric bed warmer with a King Size Cloud Sheet, and use Turbo Heat mode to feel toasty warm in just a few minutes!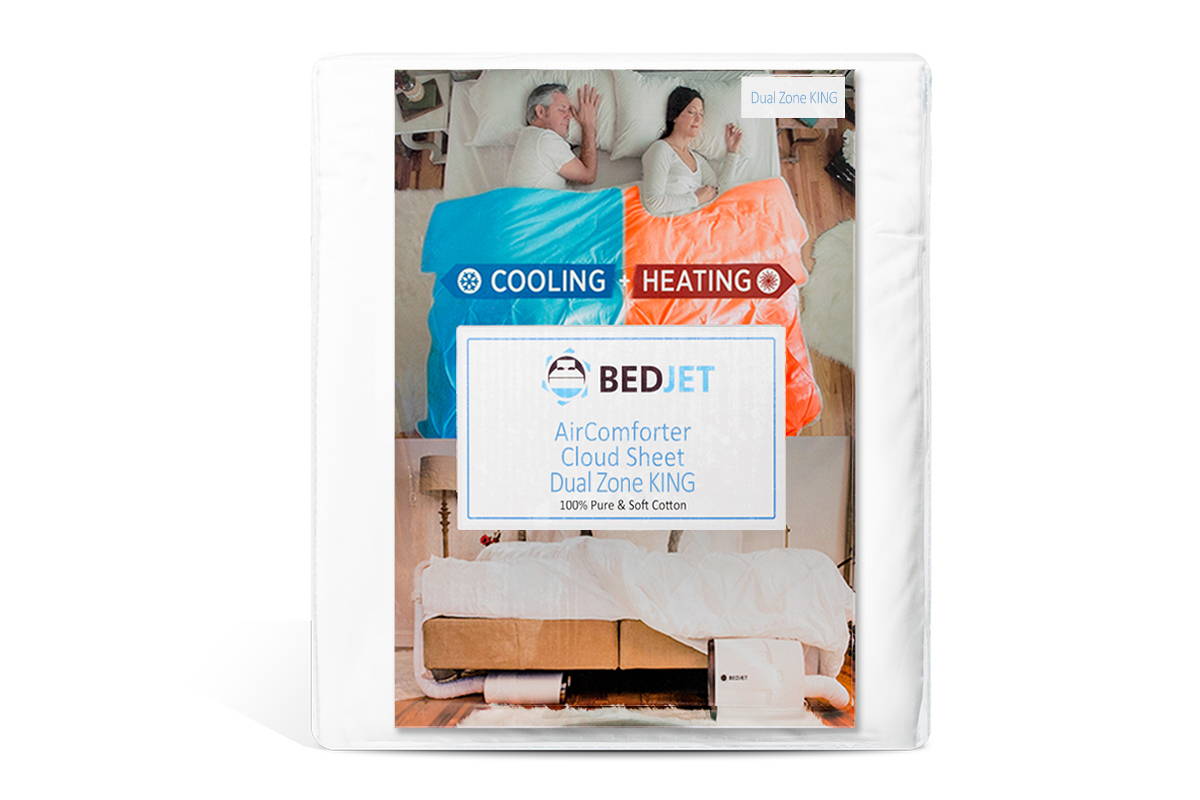 ---
Got questions about BedJet? We're happy to help. Call us at (401) 404–5250 to speak to a real human being or email us at info@bedjet.com. Sign up for our VIP list and follow us elsewhere on the web to get the latest BedJet deals, promos and news!
---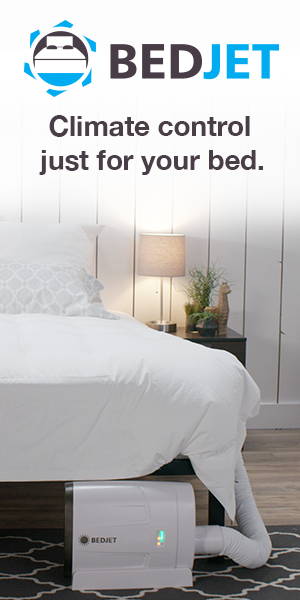 How did I live without this?
I have watched my wife suffer with menopause hot flashes for years. Finally I started looking at what I could buy to help her at night. This system is so awesome I am going to order one for my side of the bed. Works great on cool and now that we are in winter the warming is also incredible!

60-Day No Sweat Guarantee + Free Return Shipping (US Only)