The best temperature for a good night's sleep is somewhere between 60 and 67 degrees Fahrenheit, but with high summer temperatures (even at night), it can be difficult and expensive to get your room that cool. Don't sweat it — here are some sleep tips for hot sleepers to help you cool down and sleep better.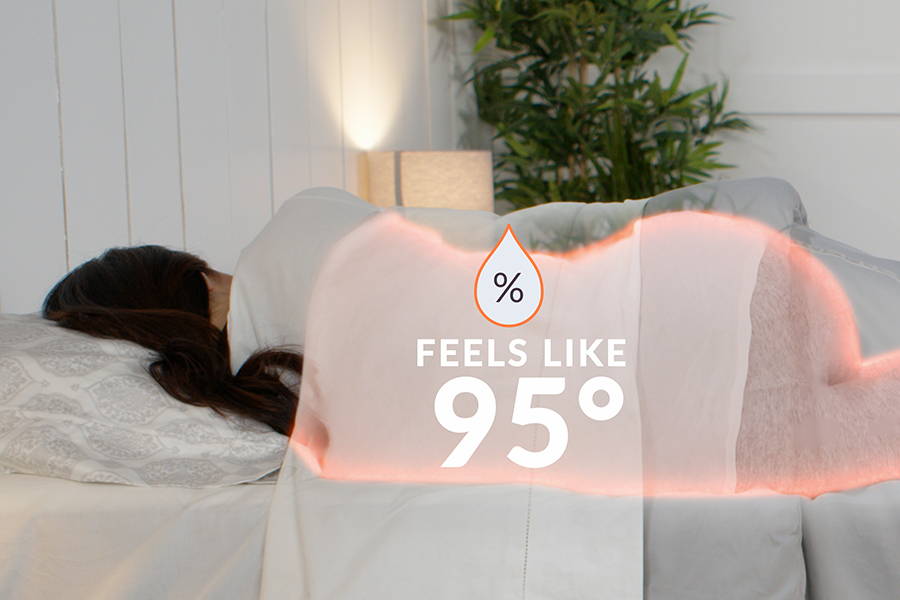 Is Your Bed Making You Hot?
Your bed is a major factor when it comes to your sleeping temperature. The materials your mattress is made of—foam, latex, innerspring—effect your sleeping temperature. Find out the mattress's materials before you purchase a mattress. While mattress-in-a-box brands are often the more convenient and less expensive mattress option, many people find that foam absorbs heat more than traditional innerspring mattresses. If you sleep hot already, this can be an issue.
---
Is Your Bedding Making You Hot?
Your bedding also impacts your sleeping temperature. If you're a hot sleeper, avoid wool and satin bedding. Go for something lighter, like cotton, when choosing sheets and blankets.
If you tend to sleep hotter in the summer, store your winter weight bedding and opt for a lighter blanket for summer. The BedJet Cloud Sheet is 100% cotton and feels like Five Star Hotel grade linens. It's designed to work with the weight of your bedding on top of it to keep in the cooling, circulating air.
---
We've been there—if your head and neck are overheated, you can't sleep. That's why your pillow is also an important consideration if you're a hot sleeper. You want to find the right pillow for your sleeping position, whether you're a side, back, or stomach sleeper, but you also need a pillow that's breathable. The same goes for pillow material as it does for mattress material. Certain materials sleep hotter than others.
---
Sleep Tips for Hot Sleepers
Besides a cooler mattress and lighter bedding, try these sleep tips to beat the heat:
Try a BedJet climate comfort system for beds. It's an excellent solution if you have a memory foam mattress that you don't want to part with. Instead of trying to find a better mattress, you can make your mattress better with BedJet.
Choose cool, light pajamas. While silk pajamas are comfy, they're not as cool as cotton. You want to sleep in something that's breathable to stay cool. The looser, the better, too.
Keep the heat out of your room during the day. Keep blinds closed and curtains drawn during the day to keep your room cooler. That way, it hasn't baked in the sun all day when you're ready for bed.
Cool your pulse points. Fill up a water bottles with ice and chilled water and place it on your pulse points (neck, wrists, ankles) to cool your overall body temperature.
Hydrate. Drink plenty of ice water before bed and bring a large glass of water to keep on your nightstand. Taking a cold shower before bed can also help lower your body temperature.
---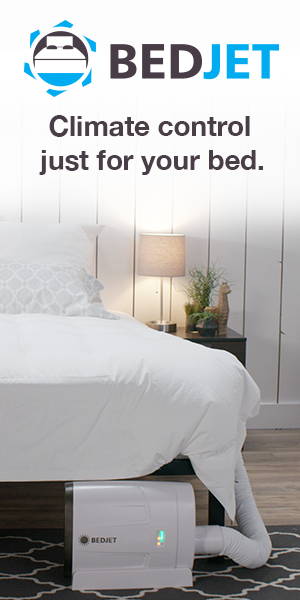 How did I live without this?
I have watched my wife suffer with menopause hot flashes for years. Finally I started looking at what I could buy to help her at night. This system is so awesome I am going to order one for my side of the bed. Works great on cool and now that we are in winter the warming is also incredible!

60-Day No Sweat Guarantee + Free Return Shipping (US Only)