It's a story we hear all the time from couples. One person needs it cool when they sleep, the other person prefers it warmer. Every night at bedtime, there's a battle over the thermostat that causes stress, tension and in the worst of the worst cases—"sleep divorce"—sleeping in separate rooms.
Sleep divorce–n. When a married couple sleeps in separate beds in separate rooms because they can't agree on comfortable sleep temperature.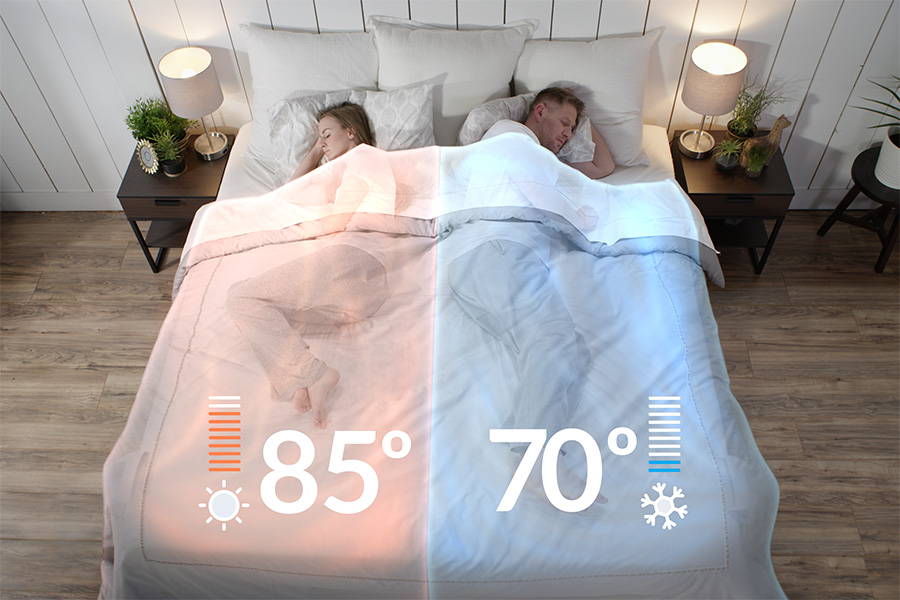 If you're one of the couples with this issue, you're not alone. Over 50% of couples are "thermally incompatible" when it comes to sleep! With BedJet Dual Zone, this problem is solved. BedJet's 100% pure cotton Dual Zone Cloud Sheet creates two independent air flow chambers without putting any barrier in between you and your partner. With one BedJet unit and a Dual Zone Cloud Sheet, cool or warm one your side of the bed without affecting the other side.
Or, go with a full Dual Zone Bundle for Couples (a bundle of 2 BedJets and one Dual Zone Cloud Sheet) and you can make it Alaska on one side of your bed and Hawaii on the other.
---
Our customers love their BedJets!
There's no reason to let sleep temperature preferences cause an issue with your significant other. Try BedJet 100% risk-free and stop battling over the thermostat now. Check out these real stories from real BedJet customers and find out how the BedJet is helping marriages all over the world.
5/5 Stars | Peaceful Resolution To A 17 Year Battle
"After 17 years of marriage, my wife and I can finally be happy sleeping in the same bed. I wish this product had existed 17 years ago. It's awesome. For many years we fought over the thermostat - she was too cold and I was too hot. We finally settled on 77 degrees but neither of us were happy. I finally slept in a different room because I can't get to a deep sleep when I'm hot. I bought 2 BedJets with the king sized sheet that has 2 zones... It helps cool me down quickly. It helps her when she has hot flashes. She usually heats up t he bed at night and then turns it off unless she wakes up sweating and then she turns on the fan to cool down quickly. I love how I can heat up quickly in the morning before getting out of bed. We're probably going to buy a few more for the kids. It's just a fantastic product. Getting your body to the right temperature makes a huge difference in the quality of sleep that you get at night."
– MrMr, Amazon
5/5 Stars | Marriage-Changing Bed Thermostat
"Could not be more pleased with my purchase. My spouse and I have often wildly different ideas about how warm or cool the bed should be. With the BedJet we can each control exactly how warm or cool our side of the bed is. The heater heats quickly and efficiently without crossing the line into too hot, and the app gives a clever and convenient way to control exactly how much heat we are each requiring to be comfortable."
– Sara, Amazon
5/5 Stars | Rare Company With An Amazing Product!
We Love Our BedJet!
"Love this product! It is a marriage saver! My wife is going through menopause and needs to have the bedroom cooler or hotter depending. Well, that's not the ideal situation for me. But BedJet saved the day (or night as it were) by allowing her to regulate her side of the bed. Now, we are both happy sleepers! Also, the customer support is amazing. I have not had this level of success or support from a company in forever. I can't recommend them highly enough."
– SC, Amazon
5/5 Stars | Blissful Sleep...
"We've had the system installed for a week now. It is everything we had hoped for. One of us is usually hot, the other is cold, and this has solved our problem completely. The cooling part is as effective as the heat, and it has turned a restless, sweaty night with damp sheets in the morning, to bliss. We are SO very happy. I'm recommending this to everyone, no matter whether you're cold or warm natured. It can save a marriage!"
– Mr. B, Amazon
5/5 Stars | It's awesome!
"My wife and I have had our bedjet v2, for about a month now, and our air comforter for about a week. It is awesome! My wife is always cold, I'm always hot. Now we can leave our bedroom cold in the winter, she's very warm. In the summer, we intend to leave the air conditioning off, and I'll use the cooling abilities. The fan is super quite if it turned down from full power, which even on low fan speed, is very effective at warming. I have only started to play with setting it up to warm me in the morning, (to wake me in a nice gentle way) so I don't have good data on this yet. I'll try to update in a few months."
– Paul, Amazon
Got questions about BedJet? We're happy to help. Call us at (401) 404–5250 to speak to a real human being or email us at info@bedjet.com. Sign up for our VIP list and follow us elsewhere on the web to get the latest BedJet deals, promos and news!
---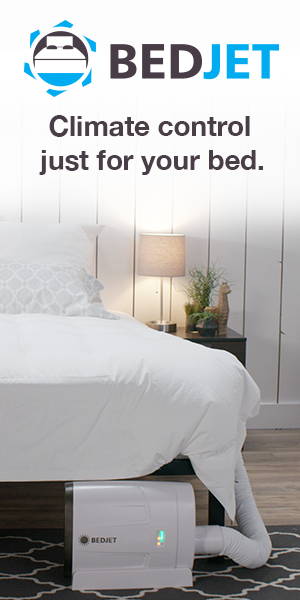 How did I live without this?
I have watched my wife suffer with menopause hot flashes for years. Finally I started looking at what I could buy to help her at night. This system is so awesome I am going to order one for my side of the bed. Works great on cool and now that we are in winter the warming is also incredible!

60-Day No Sweat Guarantee + Free Return Shipping (US Only)