These days, many major mattress companies are offering memory foam mattresses with some variation of temperature control or "cooling technology". Many times, "cooling technology" simply means that a gel layer has been incorporated into the design in an attempt to counteract memory foam's heat trapping tendency. The cool gel layer is added to the temperature control mattress while the claim is made that it will keep you cool throughout the night as you sleep. After buying this type of bed, many new cool gel memory foam mattress owners find that although it's comfortable to sleep on, they're now lying awake at night and wondering, "why do I sweat so much when I sleep now?"
Does a Cooling Mattress Really Work?
Although cooling gel and other mattress materials are often advertised as being breakthrough materials that will benefit sleepers everywhere, the truth is that "cooling technology" mattresses do little to truly keep people cool because they do not address the real reason you're waking up hot and sweaty while you're sleeping: Trapped heat and humidity in your bed.
Many people who purchase these specialized mattresses - especially from mattress-in-a-box brands - are finding that a cool memory foam mattress actually retains heat and they still wake up sweating during the night. The sleeper tosses and turns all night trying to find relief, only to end up making the bed warmer with all the movement. Unfortunately, when you have a memory foam mattress, you sink into the memory foam as you sink into sleep, and as the material forms snugly around your body contours, it also tends to retain a lot of your body heat.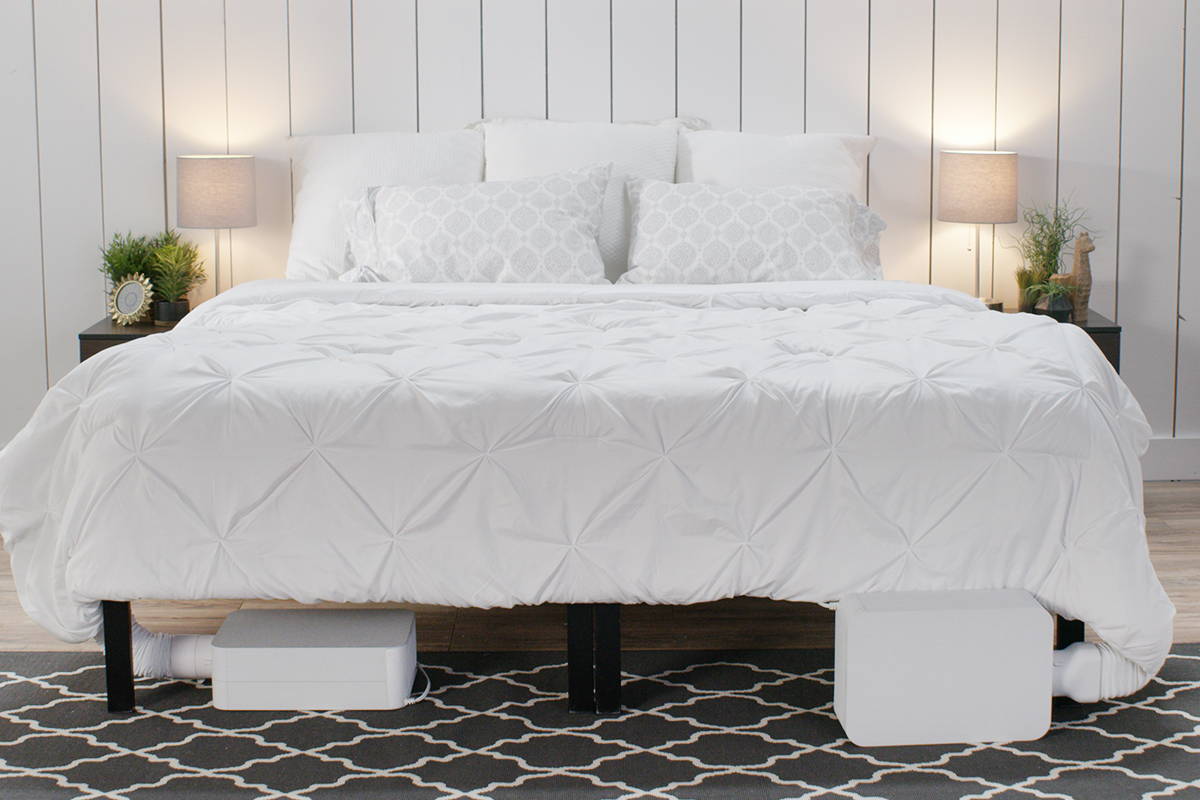 A 2013 consumer study on mattresses found that mattresses that included the cool-gel layer were cooling, but only temporarily. As the night went on, research showed that the gel layer slowly warmed to become the same temperature as the body and provided almost no cooling relief for hot sleepers. With many hot sleepers finding that the heat disturbs their sleep in the middle of the night, the momentary comfort of the cooling gel is unable to provide hot sleepers with a complete, uninterrupted night's sleep.
Using BedJet to Cool Memory Foam Mattress
If you're a new memory foam mattress owner that's suffering from body and chest sweating at night - the good news is you're in luck! Bed Jet can help.
The BedJet is a forced air climate comfort control device that delivers cooling air into the bed itself. The BedJet bed fan with wireless remote is compatible with almost all bed frames, sizes, and your existing bedding. The BedJet mattress fan uses the convective and evaporative methods of cooling. This method is extremely effective for keeping you cooled off during sleep if your bedroom temperature is 78 degrees and under. It's designed to get rid of the main reason you're feeling hot and stuffy in bed - trapped heat and moisture - which accumulates especially when you're sleeping on a memory foam mattress. You can sweat up to a liter every night without realizing - and your mattress and sheets trap that heat and moisture in! Our engineers have measured up to a 20% humidity rise trapped under the sheets.
Additionally, the BedJet can be paired with the Cloud Sheet accessory. The Cloud Sheet is a top sheet engineered with airflow chambers that puffs up with cool (or warm) air when the BedJet is turned on. This allows for even distribution of the airflow throughout the bed from head to toe. With strategically designed baffling throughout the sheet, cool air can be delivered all over your body without the sensation of direct air blowing on the skin. The Cloud Sheet's more even cooling keeps from any pockets of the bed from becoming either too warm or too cold, making it a luxuriously comfortable temperature-controlled layer. With the BedJet and Cloud Sheet, there is no need for searching for the "cold spots" on your bed anymore - the entire bed is your ideal sleep temperature!
BedJet Helps You Sleep Cool on a Temperature Control Mattress
BedJet does what "cooling technology" mattresses cannot: it continuously wicks away trapped heat throughout the night. With the ability to actively keep hot sleepers cool and comfortable throughout the night, it's no surprise that BedJet has become the number one customer rated cooling/warming device for beds in America and the market leader. The BedJet has been relied upon by many of those who suffer from night sweats, hot flashes, or those who sleep hot in general. Additionally, BedJet costs half of the standard gel-infused memory foam mattress, making it an affordable method of keeping cool with proven results.
Got questions about BedJet? We're happy to help. Call us at (401) 404–5250 to speak to a real human being or email us at info@bedjet.com. Sign up for our VIP list and follow us elsewhere on the web to get the latest BedJet deals, promos and news!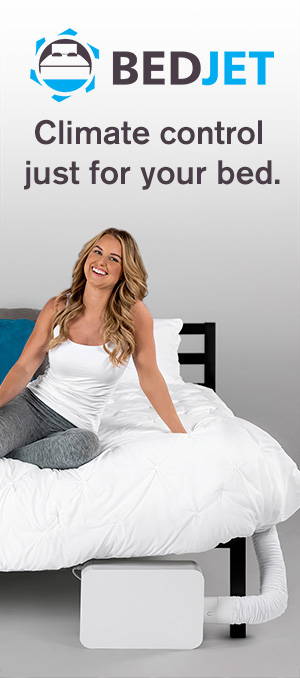 How did I live without this?
I have watched my wife suffer with menopause hot flashes for years. Finally I started looking at what I could buy to help her at night. This system is so awesome I am going to order one for my side of the bed. Works great on cool and now that we are in winter the warming is also incredible!
– Barry

60-Day No Sweat Guarantee + Free Return Shipping (US, Canada, EU, and UK only)