Hate the feeling of getting into a chilly, static-y winter bed? We call that "winter sheet shock". As you search the web for affordable alternative solutions to piling on extra layers of pajamas or turning up your home's thermostat, you'll find a number of options in electric blankets and mattress toppers. Beware: these products have several major downsides. Even the best heated blanket options out there introduce electricity into the bed, and mattress toppers – usually the pricier option - change the feel of your sleeping surface often times for the worse.
Comparing BedJet to Other Electric Bed Warmers
As you compare electric blankets to mattress pads, you'll find pros and cons to each electric bed warmer option. An electric blanket comes in more sizes and can be used in areas outside your bedroom, such as your favorite chair or couch. Generally, electric blankets are cheaper than a mattress pad, and you can choose from a variety of colors for your bedroom. However, two major concerns about electric blankets are 1) safety and 2) time-consuming cleaning and care. While a heating and cooling mattress pad is usually more expensive and can only be used on a bed, you can place other blankets on top of it safely, it stays more secure, and is less of a potential fire hazard than an electric blanket.
But we're here to tell you that you that you don't need to accept the shortcomings of either one of these products. The BedJet, an alternative to an electric blanket or mattress topper, is the better choice when it comes to making your bed feel cozy and comfortable.
Here's why:
Speed. Want to pre-heat your bed so it's nice and cozy right before you get in? If you're using an electric blanket or temperature control sleeping pad, you'd better think of that well ahead of time. According to Good Housekeeping's Research Institute reviews, electric blankets can take up to an hour to raise the temperature of the bed by 20° F. Alternatively, the BedJet raises the bedding temperature of a king-sized bed by 20° F in just a few minutes. It's 10-15x the speed of any electric blanket or electric mattress pad technology available! No pre-planning needed.
Temperature Control and Evenness. Even after 45 minutes of heating on "HI" a new king size electric blanket does not provide even heating. The BedJet and Cloud Sheet together provide even cooling and heating results throughout your bed.
Electric Blanket warming: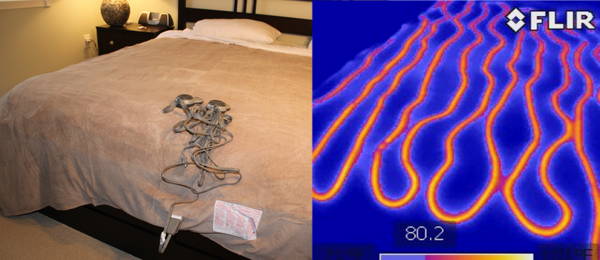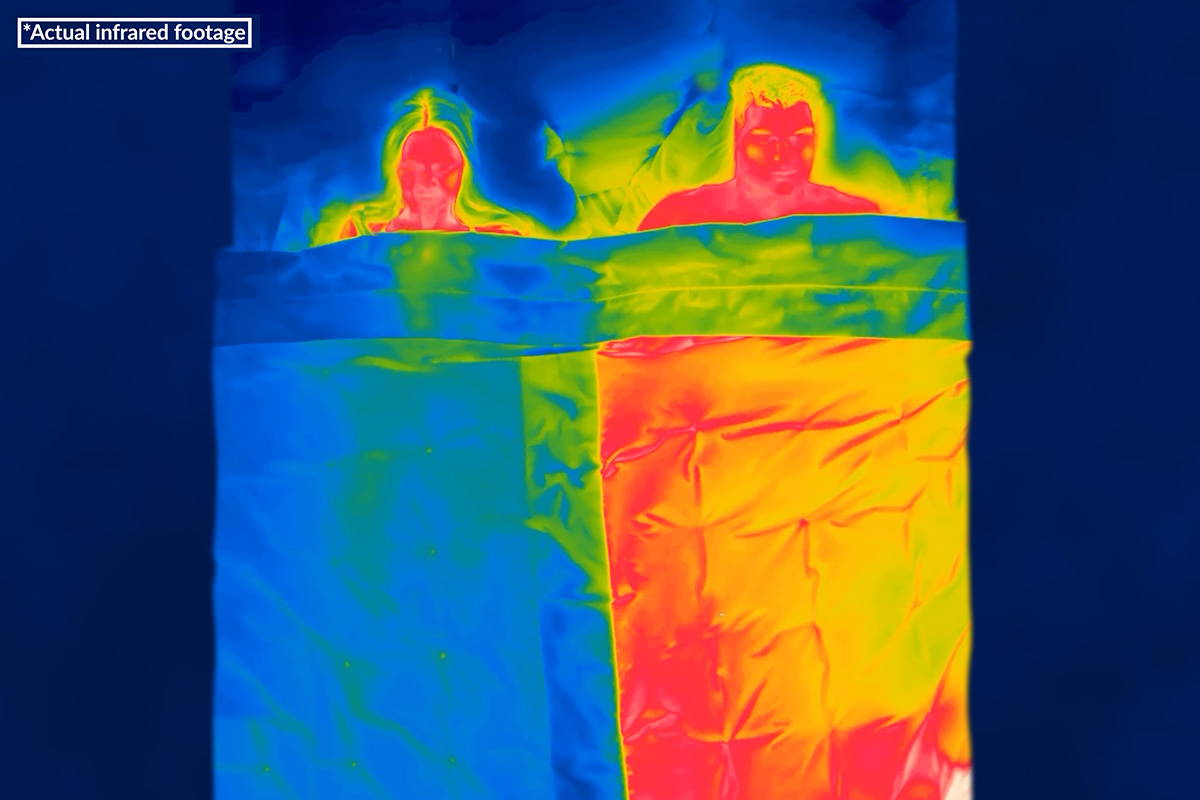 High-end electric blankets may come with more than a few settings for heat, but unfortunately even the best electric blanket can't cool you off. If you start feeling too hot while using an electric blanket, you can't put an electric blanket in "cooling mode". This can be especially frustrating if you're dealing with a thermoregulation issue that has you feeling chilly one moment and then so hot the next moment that you feel like you need an under sheet air conditioner. Electric blankets aren't able to become an air conditioning blanket, but luckily the BedJet and Cloud Sheet can do both. Simply press "COOL" on the remote and you'll instantly feel a gentle breeze of cool air. Mattress toppers and even some "cooling sheets" might come with claims that they can cool you off while you sleep, but only the BedJet's convective air technology will actually circulate out body heat and moisture that's trapped in your bedding. So, before you shop for a cooling bed topper or king size cooling sheets, research the BedJet cooling and warming climate comfort system and compare the capabilities and features.
Safety. A major concern with heated blankets is always safety. Electric blankets have embedded wires which you can feel. They can be damaged by pets, children, sharp objects, improper storage and general wear and tear over time. Bunching up of the wires can cause the blanket to overheat. Older electric blankets cause fires every year from wires in the bed. You can read more on safety and heated blankets here. Generally, mattress pads are a bit safer because they lie flat on the bed so the wires don't run the risk of bunching. One of the reasons we created BedJet is because we don't like the idea of live electricity in the bed of any kind, or sleeping while surrounded by electromagnetic fields from electrical wires just millimeters from our bodies. BedJet is the safer alternative to electric blankets because all electricity is kept where it belongs - outside of the bed. The BedJet provides 1500 watts of safe, dry heating power. The temperature of the hot air from the BedJet is safe, at approximately the same temperature as your household HVAC central air heating register.
Cleaning & Maintenance. Many electric blankets have very specific washing and drying instructions and can be a time-consuming hassle to follow. Plus, many electric blankets aren't reliable after repeated washing over time, which can result in potential safety issues. Read more on that here.
Keeping a regular or dual temp mattress topper clean can be even more complicated and time-consuming, depending on what type it is. Several mattress topper products warm (and cool) the bed through a series of water tubes. This means you will need to worry about ongoing maintenance and cleaning to prevent mold and odor. Some of these products advise cleaning the tubes regularly with vinegar or a special cleaning solution. Using common household cleaners can break the product or even void your warranty! Plus, as with any water-based product, you have to worry about leaks. Got a pet that sleeps in bed with you or a toddler who likes to jump on your bed? You'd better be careful if you have a mattress topper product that introduces water into the bed!
The BedJet has virtually 0 maintenance required to operate. Your Cloud Sheet can be cleaned in your washer and dryer just as you would your regular sheets. As for the BedJet unit itself, the BedJet's lifetime reusable air filter is easily removed and just needs to be rinsed briefly in the sink. That's all it takes to clean your BedJet Climate Comfort System!
Even the best temperature control mattress toppers and electric blankets are outperformed by the ease of use and features offered by the BedJet bed fan. Amazon may have a wide range of cooling bed topper pads and heated blankets to shop, but with BedJet you can have the best of both worlds in a single, less expensive, easier to maintain product. So, before you plunk down a ton of money on an expensive sleep product like a dual temp mattress pad or a high-end electric blanket, try the BedJet Climate Comfort System risk-free for 60 days and find out why it's the #1 rated warming and cooling device for beds.
Try BedJet Risk-Free for 60 Days!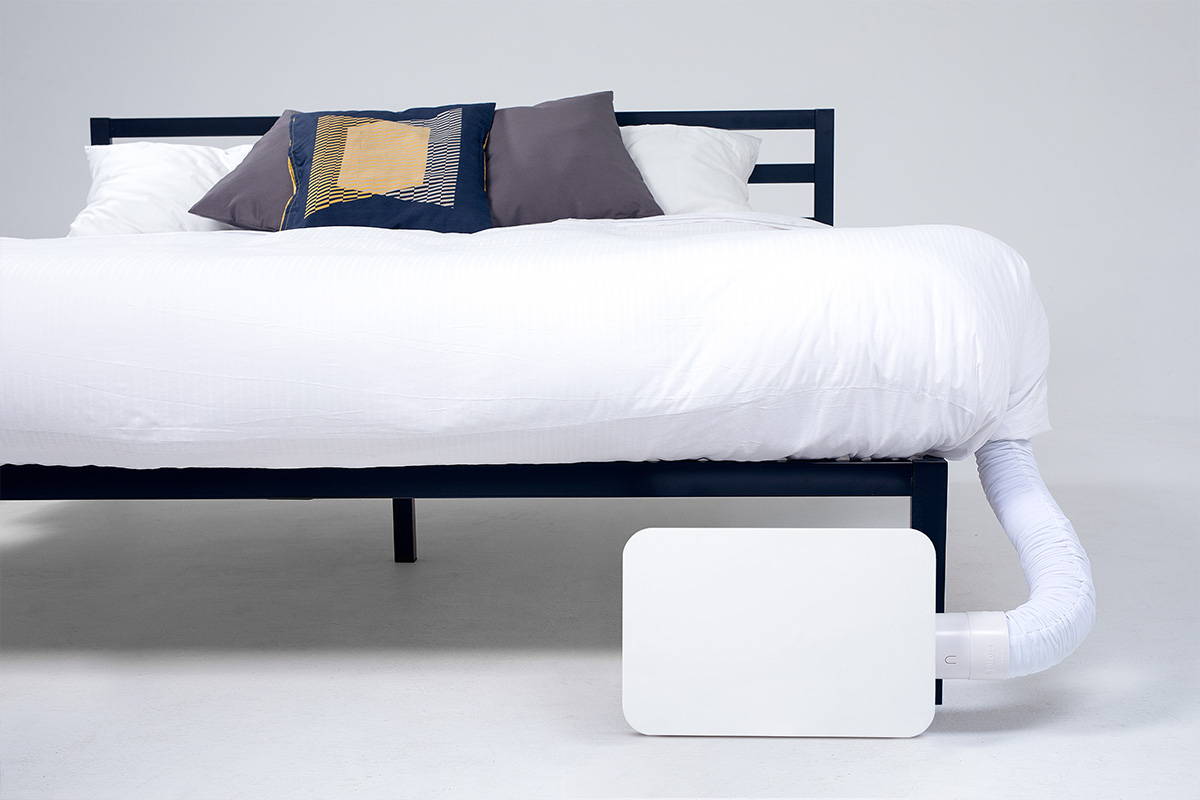 ---
Got questions about BedJet? We're happy to help. Call us at (401) 404–5250 to speak to a real human being or email us at info@bedjet.com. Sign up for our VIP list and follow us elsewhere on the web to get the latest BedJet deals, promos and news!
---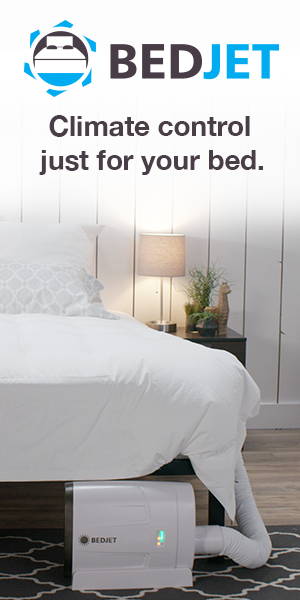 I REALLY LOVE my new BedJet! I strongly recommend getting the Cloud Sheet -- Not only is it very soft and comfortable but it is also designed to maximize a more even airflow pattern. First night in a LOONG time that I've had a great night's sleep! Definitely five stars from me!

60-Day No Sweat Guarantee + Free Return Shipping (US Only)